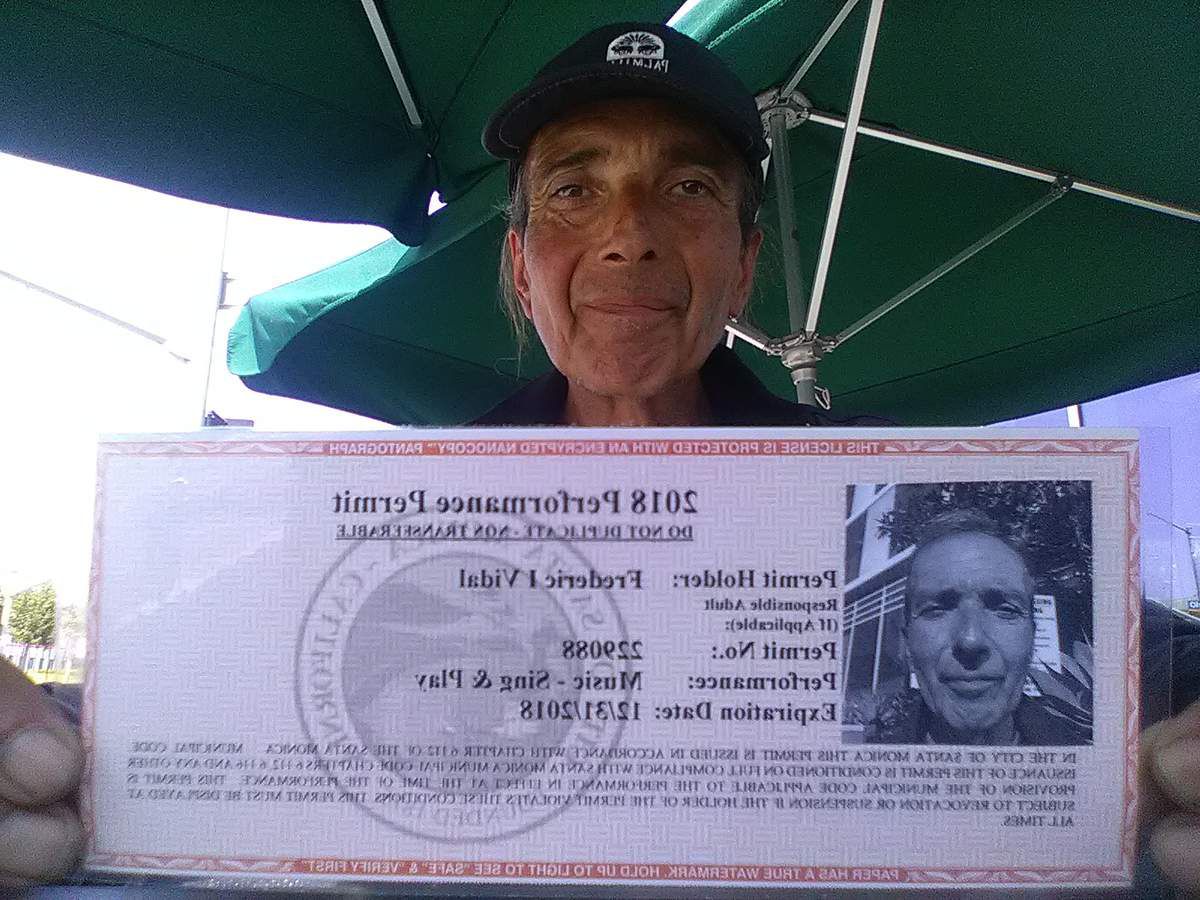 Me, August. 2, proud to show to the camera, my Performance Permit, issued by the City of Santa Monica. I play on the Pier, 7 hours of the 7 days of the week, in August, until mid-September. A Certificate like a CHEQUE of A RECORDING AMOUNT but with which MAJOR INDIE?? The reply, in NOT SO LONG. TIMefraMES, LLC
Original title: Breaking News! No New POTUS Candidacy Until 2028 For Frederic Vidal AKA Mike Fuller! (5/15-3, exclusive information for Over-Blog). First publishing: August 14, 2018 around 7am pt.
No Frederic Vidal / Mike Fuller POTUS Candidacy Before 2028 For One Only Mandate ! (5/15-3, exclusive information for Over-Blog): Definitive title (update, 2pm)
I will not be candidate in 2020 and 2024 to be President of the United States. My career is in the music business, not in Washington, for now. In 2016, I have been so happy to participate in this campaign. In 2028, maybe, I have my chance, in 10 years and he would be for ONLY ONE MANDATE (4 years to decide, to reform, to improve the Country, not to wait, to hesitate or to delay).
The number 28 looks good. I must also take care about this (everybody but everybody is not 59 this year and next, est. 59 previous century, twentieth. I will be 59 in 19, 21st century, I am yours Since 1959: numbers connected to my life look very important for me, especially right now, so I am careful about it too!)
The 2016 election won't be cancelled like that. "President" Trump's will be interviewed by Robert Mueller, sooner or later ant his impeachment will follow (according to me). Beginning now, until 2020, I won't comment anymore this part of the news. Basically, I stop commenting more and more all subjects, except BrAmStOcKeR, my music and Rock History.
Explained in the song SHADOW PRESIDENT, my role as a spiritual leader of this Country is flexible and related to the Entertainment Industry, first of them all!
I stay Republican, without membership.
My priority now is to sign a record deal with a major music company or an indie label that would be attracted by my talent. After my EP diffused in May by the Web, I release now the e-single SECRET STARS, a Tribute to the Mission: Impossible - Fallout film (b-side: CHEVALIER SERVANT).
I hope it can help.
I stay SACEM worldwide, ASCAP for the US territory. On the Social Media, I continue personally my memberships less and less but I will never stop.
Let's be wise in a Country that must be wiser! Sincerely!
Frederic Vidal, PhD
Nickname: Mike Fuller
(end of the communique)