Finally, I decide to continue to write a little more as I'm not enough busy with my Pier and next the Promenade. Basically, I will continue the Social Media 10% after the end of these 15 articles to know each other better, to understand what I mean, the best is to write. It's always what I did, to work online, to share the results, I was right, my delays come from other origins. Sometimes it takes one century to release a masterpiece!!
Well said, very serious, written yesterday, to day I have another mood, or maybe not. It's because I'm listening to USE YOUR ILLUSION, Volume 1 maybe. This is TO BE A DIARY I said, All these blogs, they have another format partly, I did mine, so proud I was (I'm still?) of my WORDPRESS. People changed. I think less about my science fiction, except to concentrate to be in EXTREME USB (100%, SciFi). I'm not acting in the reality normally, I can see really difference between wrong and true (don't need a psychiatrist at all) but like Speilberg, Lucas, DStan Lee (I suppose or I'm sure) I MUST BE IN MY UNIVERSE. USA are not accessible on Each for us, according to my political science theory, so, consequently, I created this concept of USB shared with the brand of chords so useful for our connections of machines and human beings. All of that written with song BREAKDOWN (not about some NERVOUS problems, too my point of view), I LEAVE THE AMATEUR WEB la tete haute (on sait pas de quoi demain sera fait). Tous les groupes peuvent pas s'appeler GUNS N' ROSES (I write it like that).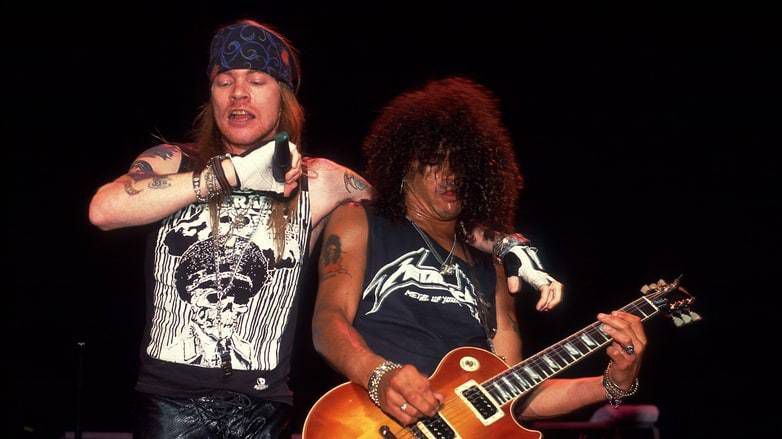 Picture from ROLLING SRONE Magazine, to check origins. Great pic to capture Gn'R mood, according to me. https://en.wikipedia.org/wiki/Guns_N%27_Roses See you later!
I think it's the beginning to the end (of the bad first part, of my life, excuse of the few, I like this expression that's maybe not at all English). No, it's finishing this WELCOME TO MY NIGHTMARE VIDAL-COOPER, want it or not WE REFRESH ALL OF THAT with? LINKEDIN, the great Winner of my latest GAME (of the Summer):
PRETTY TIED UP (The Perils of Rock'n Roll Decadence!!!!)I understand only 50% of what you say. The writings of Jim MORRISON could have been republished like Dylan's TARANTULA (I did not get the NOBEL for that book of my teen years, by the way). ROCK ECRITURE, the best for us, The ROCK STARS (secret or not) - humor.
So I'm inspired this morning. No, I don't write to have some content, does not matter what is it all about, I WRITE TO EXPRESS SOME POETRY MAYBE, MESSAGE FOR SURE, not only about GUNS N' ROSES but also my band (with no other LINEUP THAN MINE right now but it is rarely, meaning extremely enough we could check yesterday on the Pier).
My band BrAmStOcKeR, what's the future for it? You don't know the good news? It's gonna work. It worked less for GUNS N' ROSES ager USE YOUR ILLUSION 1 and 2 (from 1991!!! It's crazy, 287 years ago. I have the feeling it is yesterday but it's true I'm a superhero, anyway normal beings could share this feeling).
They had a SPAGHETTI INCIDENT very bad, another covers album (like PIN UPS) that didn't work or these albums, unfortunately for them, are too much used to keep a crisis secret or do a disc when no new songs. They deserve better, GUNS N' ROSES stopped its career for a while. Like BrAmStOcKeR after 77 and this marasme of the No-Contract. Yes and no. I'm like AXL rose, I NEVER DECIDED SOMETHING ELSE THAN TO CONTINUE MY BAND.
I wirk on my voided, without a microphone, it's a regalade! So important to equal OPERA LEVEL, classical perfection, TENORS, etc. like METALLICA with Symphonice Orchestra, more appreciated than DEEP PURPLE same purpose. So, surprise, surprise, I don't sing only like JJ CALE, I'm A ROSE-DICKINSON when I want and I want it so much this success for 2018, present year, why waiting game when it's so boring this long run since even 59.
No, I like this style of confidences of texts, kind of chaos, kind of essay to transfer a mood, to see that definitely I'm attracted by the process of writing (since MAN WITH THE VELVET EYES obviously so much), song-writing, screen-writing TO COUNTER-BALANCE THE ACT TO PERFORM that can be hard for people who lie and follow me but are not FASNS OF MUSIC LIKE MINE.
We don't regret this one day of waiting since the preview of this 4/15. I could continue, I want, writing, syndicate all of that, for the next step of Internet, the MATURITY, I just said as a comment on LINKEDIN (I'm definitely more comfortable in a corporate environment than in pure Social Med like FACE and TWI. (rtosome extend, all I say is to laugh, a lot, you know!)
I already sign, like that I cannot continue too much for a very too long article like my WEEK BACK TO FACEBOOK (arrived at a bad time for activity of the company, coincidental).
Frederic Vidal (Kelly)
Like that we know more things together, readers, if you don't read it this day or time (August 2018) but later, it changes nothings really. If your dad it in one century, it changes something, no one is not anymore of mine (environment). Myself, I stay only thanks to it (text) and mind. No, I think, read it before end of year, if you have occasion. It's not reader responsible not to find the content he'd like to read, Publishers, diffusers, so important for my concept of INTERVISION (all medias together - McLUHAN GALAXY), was on my WORDPRESS Blog too.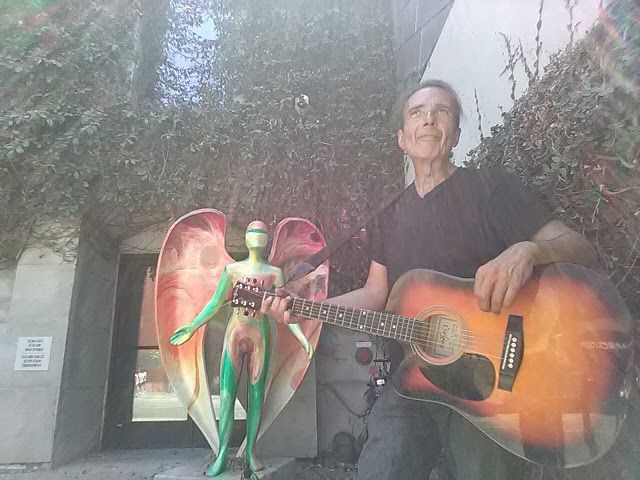 This angel is gone, at this location, no more. It gives more value to the picture done during recording for YouTube of BrAmStOcKeR's song 1977 (5 views since July 22 but does that mean something?)
Written on Thursday: This text is just a preview, a few first lines for a teasing with very low statistics but you are never sure. FV
Let's have more feelings of victory like for our World Cup to France and satisfaction like for our FALLOUT feature film! It's inspiring our career and show the situation around is FAVORABLE. FK - TO BE AND NOT TO BE, NOT ANYMORE!
ESTRANGED - GUNS N' ROSES and my today mood and necessity of communication GAVE US A GOOD TIME WRITING/READING some ROCK POETRY FOR NEWS as my CONCERTS ON THE PIER also to prevent routine are more and more EXCEPTIONAL.
Thank you SLASH, DUFF & Co? Not so much, I'm listening any kind of music here or anywhere BUT NOT SO MUCH. This masterpiece USE YOUR ILLUSION was not understood on time, never too late! Take care. FV
"I'm never good to schedule a plan but my drafts are impressive!"
"I'm never good to schedule a plan but my drafts are impressive!"
"I'm never good to schedule a plan but my drafts are impressive!"
I did not even remember the title of this article, well done, well said. FK