Already 5 times, I played on the Pier. I'm back at my best level since yesterday but I can do even better! Good communication with the audience, pictures, tips, congratulations. A guy after the concert told me I have God on my side.
I improved my voice, higher, louder. An amplifier is not indispensable. I have this energy to perform with a powerful expression of the duet guitar-melody that creates the harmony of the music, an invisible gift. On the contrary, my body language is adapted to this unique situation of a crowd of visitors enjoying their walk, appreciating spectacles like mine. So, to attract them, moving like a dance a little while playing each song.
They are so happy to be there and me too. It's a perfect perspective, the end of the historic Route 66 at the beginning of the Ocean. I play every day at 4 I decided for now (today, Wednesday, I play at 7 to see in the evening the mood and less sun). I have to play 3 hours starting today, Wednesday, I have my spot until 7, why playing 90 minutes only? I have the 3 albums under construction to play, if I want!
Frederic Vidal AKA Fred Kelly,
and his emblematic orchestra BrAmStOcKeR.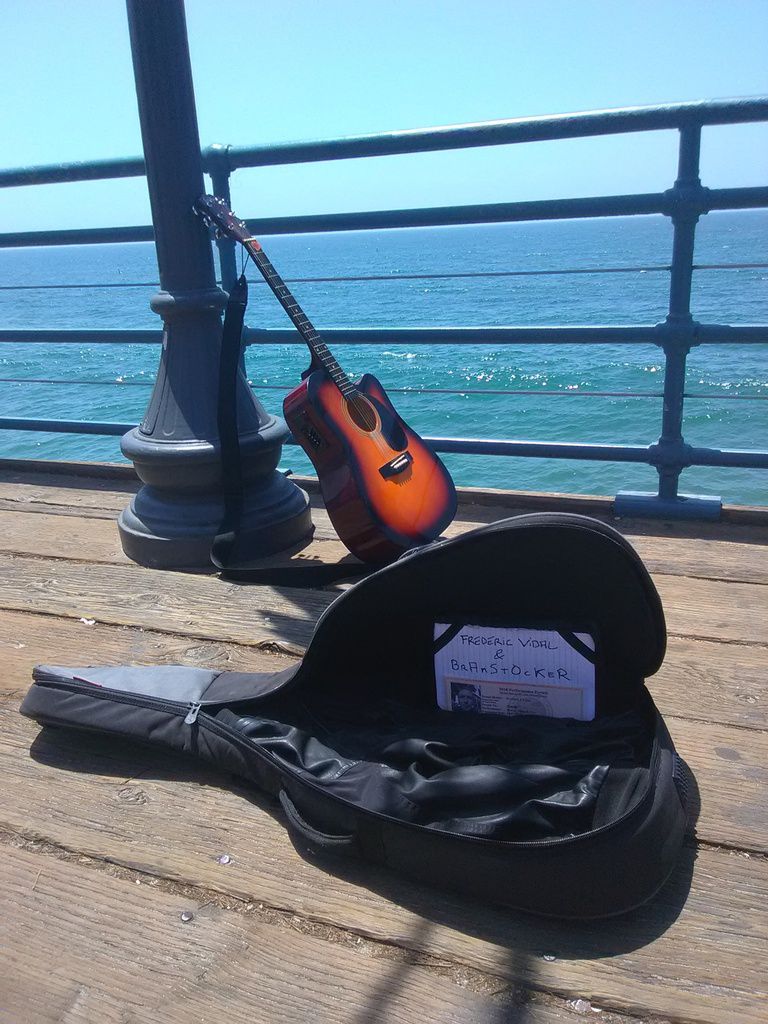 I am missing on the picture, the real star is the guitar, I just direct it. FV
Postscript. How to stay alternate and to become mainstream? Thanks to more professionalsm. Prime time qualities - to talk, to be available for cameras, audience feedback - this is the whole thing. Afterwards, in October, will WARNER MUSIC invite me to sign a personal contract for one album or more?? I'm working on it. The road used to be long, after the Route, maybe the freeway (101). I have already 2 VIP WM connections included in my new network of 11 LinkedIn users, the 2 major competitors are welcomed too, indies also but I would like the quality of a big company. It's so important to be well managed, especially for records.
For a debut album, it's not dreaming to be ambitious, especially when you have a repertoire that is a catalogue of hundreds of songs. My present motivation is superior than my 77 one, I think, I suppose. Maturity is a plus for music business, art and industry are compatibles!! At last, to be and not to be, not anymore!